Ohhh-my-god, I'm currently in GOSSIP-HO HEAVEN thanks to
The Complete PEOPLE MAGAZINE Archive
.
PEOPLE came out when I was in my late teens. I distinctly remember buying the
Very First Issue
at Tower City (before it was even
called
Tower City) and reading it on the rapid transit on my way home from nursing school.
This was the issue--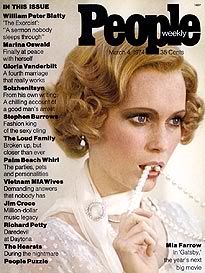 --and the
stories inside
included interviews with Patty Hearst's parents, Lee Harvey Oswald's widow, and William Peter Blatty whose novel
The Exorcis
t had recently been made into a film that caused moviegoers to pass out, puke in the aisles, and--allegedly--have themselves voluntarily committed.
Looking back at these covers from the first year alone was like stepping into a time machine for me.
I remember when 12-year-old Ted Kennedy Jr. lost his leg from cancer: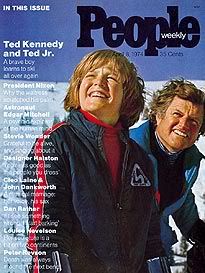 When 10-year-old Tatum O'Neal won an Oscar for
Paper Moon
: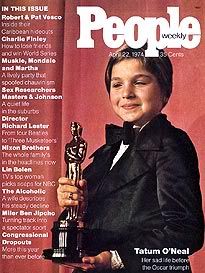 When Pat Nixon kept her mouth shut about her I-Am-Not-A-Crook hubby:
When Mary Tyler Moore flipped her knit cap into the air every Saturday night at 9 p.m.: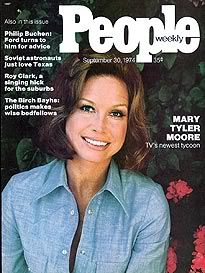 When Paul Newman anticipated his 50th birthday: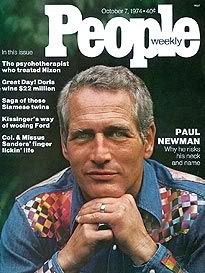 When Burt Reynolds hooked up (gasp!) with the much-older Dinah Shore:
When Cicely Tyson was the first black actor to win an Emmy for a "lead role in a miniseries or Movie" (
The Autobiography of Miss Jane Pittman
):
When Prince Charles, at 25 (TWENTY-FRIGGING-FIVE!) was the
World's Most Eligible Bachelor
(and never answered my love letters):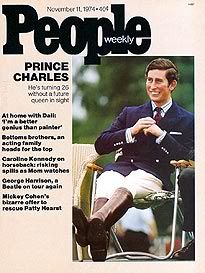 Other 1974 covers announce that Raquel Welch is
33
, Dustin Hoffman is
37
, and Gloria Steinnem
40.
Forty seemed ancient to me then. My
parents
were in their forties!
And Hugh Hefner, as you can see, probably
had no need for Viagra even if it existed back then: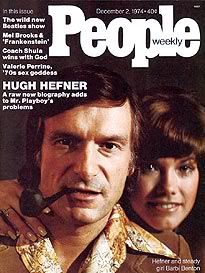 The vast majority of the celebrities who graced that first year's cover, including John Wayne, Katharine Hepburn, Gerald Ford, Jackie O, Ari Onassis, Johnny Carson, Bing Crosby, Richard Burton, Charles Bronson, Rock Hudson, Telly Savalas, and Jack Lemmon have since passed away. Having subscribed to this
gossip rag
magazine for several decades now, I'm sorry I didn't hang onto these old issues.
Even if you're
not
a PEOPLE fan--check it out. :-)
Now, if you'll excuse, kiddies, I've gotta grab my cane and hobble over to the ice box for some prunes...