Happy Birthday to GRANDMA:




Have I mentioned she's a maniac? Yes, she's a maniac. Also, quite talented: She can burp on command! Not just your ordinary burp--a long, earsplitting, drawn-out belch that instantly makes you check the front of your shirt. In her ultimate wisdom, she taught her grandson to do the same. He took advantage of that and would speak in "burps" when he was small rather than answering my questions. Um, I think he still does that...

When she laughs, it's a loud, hearty belly laugh that can be heard down the halls of her nursing home. She tools around with a wheeled walker decorated with stuffed animals and Hawaiian leis, stopping to chat with long-time residents and nurses whose names she can no longer remember. She flirts with the EMTS who pass through to cart off her neighbors ("Hmm, that one's cute!"). Though she can't tell you what she had for dinner five minutes ago, she knows exactly what time they serve ice cream on every unit.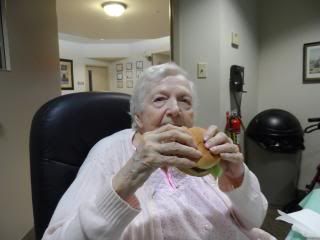 "This is MY hamburger. DON'T TOUCH IT!"

With Grandma now in the moderate stages of Alzheimers, our conversations are circular--stuck in "The Loop" as Beth calls it. Little hints every now and then warn us that, sadly, if she does live to be 100 as she so often threatens us, she may not recognize us anymore. After her last trip to the hospital she briefly forgot my name. When Nate visited her the other day, without the rest of the family around as a cue, she continuously asked him, "How's Nate?" She obviously identified him as part of the family. But something was missing.

We are prepared. In the meantime, though, we are truly blessed to have her.

HAMMING IT UP!