I'm so happy to see some familiar faces, and equally happy to welcome several new participants as well! With less than 24 hours left till the start of GRAPEMO, here is the current list of participants (aka "Grapenuts") and their PWGs. Anyone who did not get your PWG to me yet, please e-mail or PM me ASAP. Thanks!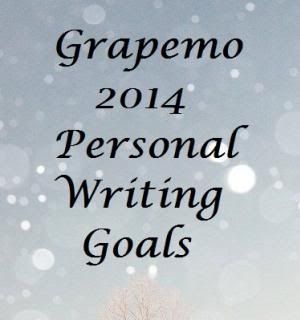 Akoss will revise 10 chapters of her middle grade manuscript by the end of the month.


another_wip will write 300 words a day.

Cari D will write 10k words between the three projects she has going, and decide which one she wants to stick with.

Dominique plans to complete the book she is currently working on and create a glossary of terms and names for at least the first two books.


edgyauthor plans to complete at least six comic strips for her webcomic ECHO EFFECT.

Elaine H will write 15K words.

Emma plans to complete four chapters this month.


fandoria plans to write 2 hours a week.

Jean D has three projects in the works and plans to work on them EVERY DAY.

Jenni will wrap up the last few paragraphs of DIMENSIONS, clean it up and tie up any loose ends, and have ready for release.

Kathie C will A. research and work out the plot for the historical aspect of her novel, and B. develop more fully the 5 different 'voices' of the main characters.


kbaccellia will revise and finish her revisions of EL COMPUESTO.

Kim V will revise her novel MULESKINNER.

Mialie S plans to put together her next PUPPY TAILS chapter book manuscript--expected word count approximately 20,000 words.

Monica M will write book 3 and revise book 1.


newport2newport will tighten the narrative string in the present-day chapters of her memoir.


onegrapeshy will write the first 50 pages of a new WIP.

Patti M's PWGs: First week--send out 3-5 more queries on her finished YA sci fi; second week--tackle 2 chapters minimum on her WIP, a YA paranormal; third week--finish up any of the 3-5 queries of week 1 that she may not have completed; fourth week--2 more chapters on the above stated paranormal.

Sher T will finish the rewrites for SECRET INGREDIENT by the 12th, then start first edits on KATE'S HOUSE--and will finish as much of that one as possible by the end of the month.


swhisted has a PWG to add 10K to her novel DREAMSTERS.