Remember Margot Frank?



What if she'd survived the camps?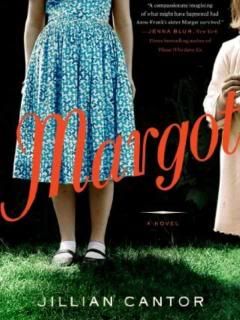 Author Jillian Cantor explores this "what if" in her touching, meticulously researched novel, MARGOT (Riverhead Trade)

Amazon blurb: In the spring of 1959, The Diary of Anne Frank has just come to the silver screen to great acclaim, and a young woman named Margie Franklin is working in Philadelphia as a secretary at a Jewish law firm. On the surface she lives a quiet life, but Margie has a secret: a life she once lived, a past and a religion she has denied, and a family and a country she left behind.

Margie Franklin is really Margot Frank, older sister of Anne, who did not die in Bergen-Belsen as reported, but who instead escaped the Nazis for America. But now, as her sister becomes a global icon, Margie's carefully constructed American life begins to fall apart. A new relationship threatens to overtake the young love that sustained her during the war, and her past and present begin to collide. Margie is forced to come to terms with Margot, with the people she loved, and with a life swept up into the course of history.

I loved this novel. From the beginning, of course, I knew it was a fantasy, that Margot died decades ago along with her sister, her mother, and everyone else in the Annex except for her father. The sheer originality of this story captured me at once.

I don't agree with the reviewer who stated that (and I'm paraphrasing here) Cantor glossed over the true horrors of the war. We know what happened in the war. Is it so unbelievable that Margot would not, fifteen years later, want to obsess, page after page, over happened to her in the camps?

Or the one who dismissed the story because of a "predictable office romance." Margot survived an unspeakable past; now she's started a new life in a new country. She has an apartment of her own. She works for a law firm. She is now over thirty. Is it so unbelievable that she'd want to find love? To be like everyone else? To feel like a normal person for, well, the first time in------???

The reviewer who complained that Margot "picked" too much at her ever-present sweater, always pulling her sleeve down to hide her tattoo. Well, I guess a couple years in a concentration camp might make me quirky, too... Not to mention there's a good reason she wants to hide those numbers.

Then there was the review that complained that Cantor rewrote history: That it was Anne, not Margot, who had a romantic attachment to Peter. Well, yes, according to her diary, she did. But do we know that Margot didn't? Margot also kept a diary, a fact that Anne herself mentioned in her own. That diary was never found. We will never know how Margot felt about Peter, or, frankly, anything else in her life. This certainly wasn't mentioned in the movie which was based only on Anne's perspective, and--as even the character of Margot notes when she see the film for the first time--portrayed Margot merely as a stoic wallflower.

This novel enhances, rather than diminishes, the memory of Anne Frank. Anne is alive again, and just as importantly, so is Margot. Trust me: It's a joy to meet them both.