I am so over this show: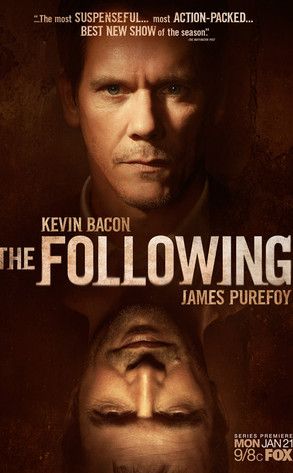 I was addicted to it from the first minute of the first episode. Now it's simply...monotonous.

And the characters are STUPID.

Premise, for those of you who don't watch it: A diabolical serial killer uses the Internet to create a Following to carry out his wishes, which include kidnapping his son. Kevin Bacon, an FBI agent who once had an affair with the serial killer's wife, is trying to get the son back. You never know "who" belongs to this Following. For instance, last night it turned out to be one of the FBI agents.

KB's character is not brilliant.

In last week's episode he finds the farmhouse where the Followers are holding the boy. The FBI tells him to wait for back-up. Does he wait for back-up? (Let's hear it!) It ends badly for the local cop he's with. Then of course he goes into the house himself. Alone.

I realize characters need to do stupid things in order to make the story exciting. But some stupid things simply defy belief.

He finds the boy. While he is standing at the bottom of the stairs WITH HIS BACK TO THE REST OF THE HOUSE, talking the boy at the top of the stairs, one of the bad guys sticks a gun to his head. Obviously KB never watched Jodie Foster's training session in Silence of the Lambs.




This week's episode: So KB is now stuck in the living room with two bad guys and one bad chick. They take his gun.

Bad Guy #1 to Bad guy #2: Tie him up.

Bad guy #2 hesitates.

Bad guy #1: Tie him up!

KB: Yeah, c'mon, tie me up. I'll snap your neck.

BG #2: He says he'll snap my neck.

BG #1: No he won't.

BG #2: Yes he will. He's FBI! He's trained to do that sort of thing!

KB (smugly): Yep.

BG #1: Then I'll blow his head off.

KB: Go right ahead. But your buddy's neck will still be snapped.

BG #2 does not want to take the chance. A moment later, however, Bad CHICK bumrushes KB, hits him with a taser, and utterly incapacitates him.

Wait. He just threatened to snap the neck of a man who's bigger than he is? But he couldn't haul off and kick this teeny-tiny girl in the face the second she made a move? This big, bad FBI agent?

Like I said: It defies belief.

At the end of the episode the bad guys roar off in a car. KB has a gun in hand. Why he makes no attempt to at least blow out a tire, I have no idea. He just lies there looking...stupid.

I miss Downton Abbey.