latest
favorite ghost picture...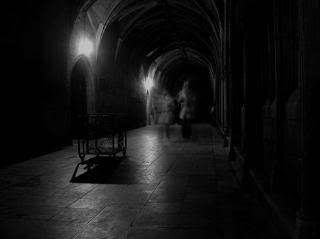 GhostHuntingGuide
...started me thinking about all the ghosts in my life. Not the real ones--that's a whole 'nother story--but the ones that piqued my interest in
The Otherworld.
Starting with this guy, of course.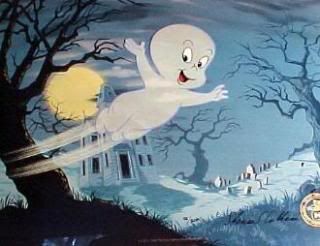 Yep, my favorite cartoon on Saturday mornings, with this one following a nose behind:
(I wanted to be Daphne)
OK, not scary. And these were mere cartoons, unlike the shows that
really
unnerved me (well, at age 5 or so) like when
The Little Rascals
ran into some spirits--
(I honestly believed that would happen to your hair...)
--not to mention
The Three Stooges
:
(OK, OK, it was an animated skeleton. Close enough)
GHOST
was the first "ghost story" I fell in love with, though I was
much
more impressed with the creepy little demons at the end:
(Note: What was
even
creepier was when Patrick Swayze's spirit took over Whoopi Goldberg's body, and...well, some people thought that was romantic. I found highly D-I-S-T-U-R-B-I-N-G)
I was never a fan of
GHOSTBUSTERS
. Cartoon ghosts? Puh-lease. But I did fall in love with this guy and his two ghostly companions:
I'm pretty difficult to scare, but
POLTERGEIST
freaked me out: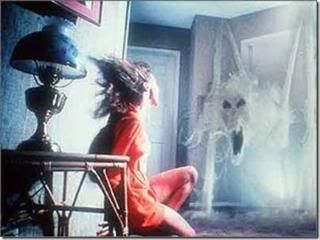 --and so did
THE GRUDGE
--
--but I prefer my ghosts to be what I imagine them to be: the lost, troubled souls of real people. In that sense,
THE OTHERS
was the
perfect
ghost story: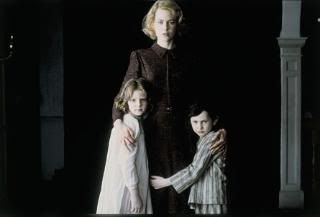 For me. the
ABSOLUTE SCARIEST
movie about ghosts is
THE INNOCENTS (1961)
, based on Henry James's TURN OF THE SCREW. The book itself is chilling. The film is terrifying.
Now THAT'S a ghost!
See this movie!
In the dark.
Alone.
I dare you!
Well, my