Laaaaazy
day! This weekend was unreal.
Saturday
: 1. A funeral service for my "adopted" sister Ruthy's dad. He was in his 80's and fairly recently (last year) widowed after his wife (of 63 years!) died. He passed away peacefully after a very brief illness. Every nurse who took care of him came in to kiss him goodbye.
2. Immediately after that, I had the pleasure of being part of the Hudson Ohio Author Book Fair in Hudson, Ohio. How cool is it to meet people who love to read? Who like your books? Or to hang out with OTHER WRITERS who don't glaze over when you talk about writing, and--better yet--are more than happy to share their own experiences?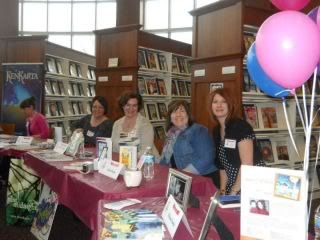 Lisa Roeker, me, Mara Purnhagen, Linda Gerber, Melissa Staehli

Sunday: Orthodox Easter. Because I didn't think far enough ahead to request the whole weekend off, I had to drag myself to work in the morning, then zip off to my sister Karen's right after work. Ruthy, who at first hadn't planned to come because of the funeral and all (and out-of-town family) sprung a surprise visit on us after all I LOVE YOU, RUTHY! Family, friends, a whole evening of gossip and great food.

Today I was also supposed to work, but a last minute schedule change (THANK YOU, JANIS!) gave me the day off. I'd planned to spend it writing--yanno, the thing I'm supposed to do whenever I have a spare moment?--and instead spent it alternately napping and finishing up on some reading:
This one, a stunning novel-in-verse, I read this in
one sitting
.
And my "adult" fix for the month--
--which I finished up while waiting for the guys at the gas station to change my oil.
This one I finished reading on Saturday after the book fair, because spending time around books only makes me want to read more.
5 stars for all of them!