So I chase poor gacking dog downstairs to the family room, which of course is bare concrete since our flood last summer, and herd him toward the back door. A empty box--probably the one belonging to my table-top Christmas tree, which, incidentally, is still up--leaps out in front of me with no warning at all and
deliberately trips me.
I land on my right hand. I am no lightweight. So now I'm wearing a brace on my dominant hand, I'm out of Motrin and seriously crabby, and still have to drag myself to work today.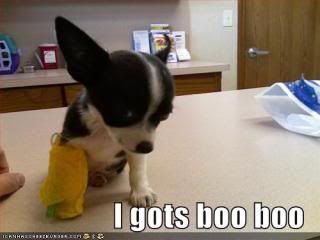 So what exactly does this have to do with
GRAPEMO
? Ah
ha
! I knew you'd ask.
If
you
start gacking over your wips, don't immediately rush for the door: be sure to turn on a light so you can figure out which obstacles are in your way.
Okay, okay, so I suck at metaphors AND walking. :-)
Dog wakes up this morning and starts gacking in the kitchen. By the time I get there, there are two puddles of puke...you know, the watery ones that roll down the grooves between your ceramic tiles and end up on the living room carpet.