I know all of you are patiently waiting…

…for the results of the
GRAPEMO 2011 TEASER DRAWING
As I am quite exhausted, I'm going to let Elijah take over:
TA DAH!
"Arf! (that means hi) Once again I've been elected (with the help of my littermate Beth) to pick the winning name. I am so happy! Arf, arf! (that means I am so happy)"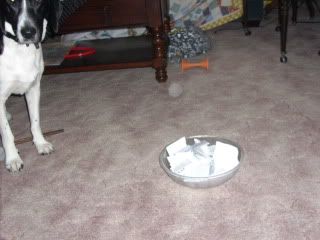 "Here is The Bowl. It is full!! Many people sent Mommy some awesome teasers. Beth wrote all the names out in pieces of Mommy's manuscript. That is not reflection on Mommy's manuscript. It's all that was handy. BTW, I would like to add that I am not allowed to snatch paper. But Mommy agreed to make an exception this time if I promise to let it go like a nice boy. Arf! (that means: in your dreams, Mommy!)."

"Picking a name, picking a name..."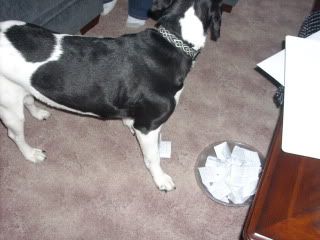 "I have chosen a name. I dropped it like a good boy. It's on the floor next to my foot.
Aaaarf, arf-arf!
(that means Magic Marker--
ptooey!
)."
"Beth snatches it up before I can change my mind. Yes, she snatched it. Bad Beth! And you talk about
me
?"
"Beth opens the paper and shows me the name. IT'S LAURA H!!!!
WOOF WOOF WOOF!
I
woof
, not
arf
when I am very excited--and this means
CONGRATULATIONS, LAURA H!
"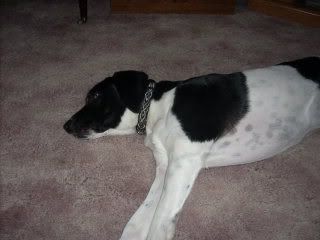 "Good grief, that was exhausting! I'm letting Mommy take over."

Laura, this is what you won:
First of all, most awesome author Saundra Mitchell, aka
anywherebeyond
here in LJ Land, was VERY generous to donate a SIGNED COPY of her novel
THE VESPERTINE
which was also a
GRAPEMO 2009
project! (Saundra, you have no idea how happy that makes me!)

From Amazon:
"It's the summer of 1889, and Amelia van den Broek is new to Baltimore and eager to take in all the pleasures the city has to offer. But her gaiety is interrupted by disturbing, dreamlike visions she has only at sunset—visions that offer glimpses of the future. Soon, friends and strangers alike call on Amelia to hear her prophecies. However, a forbidden romance with Nathaniel, an artist, threatens the new life Amelia is building in Baltimore. This enigmatic young man is keeping secrets of his own—still, Amelia finds herself irrepressibly drawn to him. When one of her darkest visions comes to pass, Amelia's world is thrown into chaos. And those around her begin to wonder if she's not the seer of dark portents, but the cause."
Laura, you'll also receive a $25 gift certificate to
BARNES AND NOBLE
and also a signed paperback copy of
SAY THE WORD
--compliments of Elijah who finds books, and gift certificates, particularly yummy! :)