Dog Eats Nails
Yep, keep it up, mutt.
Yesterday, the predicated wind storm ("--the worst since the winter of '78," one weatherman predicated) never materialized. But after half a day of rain, this was the sky just before sunset: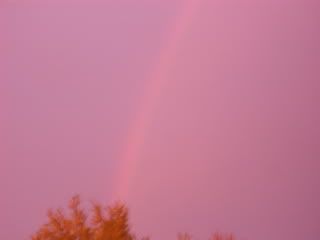 Two minutes later I saw
this
over my garage:
For me, it was a thoroughly wasted day. I did nothing but lay around, watch TV (L&O SVU: I heart you) and make one trip out for dog food.
I'm thinking of doing NaNoWriMo but it all depends on the amount of revisions I have yet to do to my Still Untitled Paranormal. Plus this low fat diet is sucking every molecule of energy from my body.
Jeannine Garsee
FRIENDS' BLOGS/WEBSITES (other than LJers)