It's been seven weeks since I've blogged, but with a very good reason. KND is completed (can I hear a "YAY"?)

Writing this novel has been consumed more time, more energy, and more of my soul than any of my three previous novels. I've had to delve into dark places I'd never ventured before. It was scary, and thrilling, and it started with two photos: This one--




--and this one--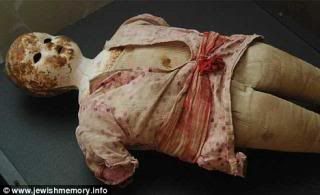 --both photos of dolls, found in concentration camps, that once belonged to young victims of the Holocaust.

As soon as I saw these pictures, the "what if?" began...

The "play name" for my wip, "killernazidoll," has always been a misnomer. Though Berta belongs to a Nazi, not a victim or survivor, it's not she who's the killer, though she does have her gruesome moments. As I needed a "real" doll to serve my purpose, I spent weeks on eBay till I found the perfect one. If you follow me on Facebook, you're already familiar with her: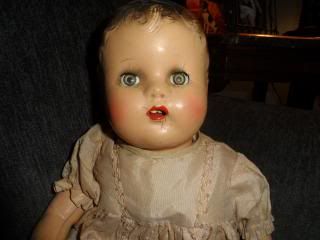 A Madame Alexander "mama doll" from the late 20s/early 30s, I originally named her Bernadine. Soon I grew tired of typing out the long name, so I shortened it to Berta, as she had to have a German name. This was one of the very few name changes I made; unlike my other manuscripts, I knew *exactly* what my main characters' names were before I even started the first draft. The Berta you see here is exactly as she's described in the novel. Maybe less, um, sinister. :)

It astonishes me that so many people find old dolls "creepy." I find them breathtakingly beautiful--cracks, flaws, and all--each one steeped in her own marvelous history, worn nearly to shreds by the many hands that loved her. I get the feeling "my" Berta, unlike the Berta in my story, led a fairly innocuous life. She is not stained with blood. Her green eyes, wide and innocent, don't watch me with veiled suspicion. I suspect she has a story of her own that I'll never know, but it's not important enough for me to find out.

The "other" Berta's story, however, broke my heart while I wrote it.