Lee Majors and Bruce Dern have joined the cast of 'The Big Valley,' based on the 1960s TV series. Majors and Dern will play Judge Adams and Tom Barkley, respectively, in the film, which stars Jessica Lange as Victoria Barkley and Stephen Moyer ('True Blood') as her eldest son, Jarrod. Majors portrayed Heath Barkley in the original TV series..."
--and instantly flashed back to my teen-age babysitting days when this show was on (already in reruns in case you think I'm
that
ancient) in the afternoon. I watched it faithfully b/c I was
sooo
in love with Heath Barkley: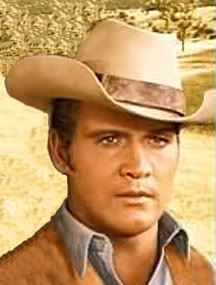 And
Nick: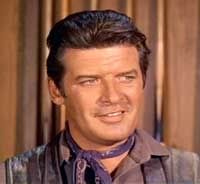 AND Jarrod, too:
Yep, I'd take all 3 of 'em. :)
This is what I liked best about the old TV westerns:
The good guys were GOOD.
Period. No "iffy" business. Maybe a couple minor flaws, like...say, "a hot temper" or no luck with the ladies. Nothing that'd stop you from rolling around in a buckboard with 'em. :)
The bad guys were BAD.
Also period. You knew exactly who those evil yellow-bellied varmints were and you knew exactly what would happen to them in the end (POW-POW-POW!). Now, in an age where your typical hero may rip your throat out at any moment, I still find that comforting. Predictable, yes--but comforting.
I am SO going to see this film when it comes out!
I saw this--